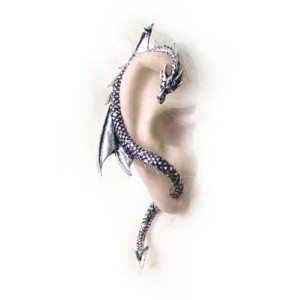 I have discovered a company in China is illegally producing pot metal versions of at least two of Alchemy 1977 Gothic's trademarked designs! These counterfeit pieces are being sold in bulk to unsuspecting merchants worldwide.
Both the Temptation Snake Ear Wrap and Dragons Lure Ear Wrap are appearing for insanely cheap prices on sites like Ebay and Amazon - in many cases using Alchemy's copyrighted images and trademarked names!
The knock-offs are being produced in low quality metal which is often called pot metal (any metal that melts thrown into the pot) and are not the high quality, fine English pewter (with surgical steel posts) Alchemy is known for. These counterfeit versions may contain nickel, lead and who knows what that can cause allergies or health issues.
As an authorized Alchemy dealer, I am licensed to use their images, but naturally these bogus ones are not. I sell all Alchemy items at their MAP (Minimum Advertised Price), so if you see any of their designs super cheap or below our prices, you can be pretty sure it is a knock off, so please beware! I do occasionally sell select in stock items below the MAP on my own Ebay listings or in my sale section, but if you see one of their pieces for $.99 or other insane price or on a site that is NOT an authorized Alchemy dealer, be careful.
Alchemy is aware of this issue and is taking steps to stop these and any other knock offs they find. As an authorized dealer, I am reporting all listings for such items I find and would ask you to do the same. These cheap immitations damage the market and Alchemy's image and reputation. If you find any other counterfeit Alchemy items for sale, please let us know so we can forward the information to Alchemy.