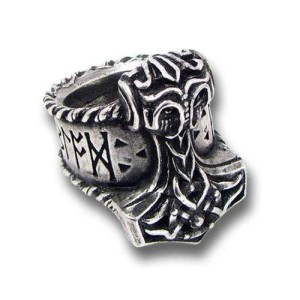 Cleaning Pewter
Our gorgeous Alchemy Gothic jewelry pieces are fine English pewter and we are often asked how to clean pieces that may become dull or dirty. Here are some things we have found that work.
First, remember pewter does not tarnish like silver will, but pewter will develop a dark patina that can look dull and dingy over time. Unlike silver where your body chemisty can help keep pieces you wear often clean, frequent wearing of pewter will often make it dull faster. While this patina can add to the beauty and value of the piece, many people would prefer to clean it off and make your pewter jewelry look clean and bright. Some pieces may have a darker color in the low areas to give it more dimension, so take care not to ruin the appearance of the piece by over cleaning. Also take extra precaution with pieces that contain enameling, gemstones or Austrian crystals as some cleaners that may work for the pewter may damage or discolor these elements.
The easiest way I know to clean pewter jewelry is to give it a gentle bath in soap and water as that is often all that is required so always try this first. I find something like Dawn dish soap is perfect as it will remove surface oils such as those from prolonged contact with your skin that can attract dirt and dust. Use a soft cloth or just your fingers to clear the piece of surface dust and dirt. Do not use a stiff brush or abrasive pad as pewter is a soft metal and it can easily scratch pewter or damaged any crystal or enameling the piece may include. Dry thoroughly using a soft cloth.
If your pewter piece still looks like it needs more cleaning after its little bath, the best mixture I've found is a paste made from 1 tsp. salt, 1 cup vinegar (I prefer white vinegar), and about a half cup of flour. Apply this paste to your pewter piece, allow it to sit for a few minutes, then rinse off with warm water. Dry with a soft cloth. Repeat if necessary.
Another good pewter cleaning paste that can work is made with rottenstone (decomposed limestone, available at most hardware stores) and boiled linseed oil (found at many art supply stores). Apply generously, then wash in warm, soapy water, rinse and buff dry with a soft cloth. This method works particularly well for pewter dinnerwear, tankards, pewter statues and other large pieces.
Commericial pewter cleaners are also available - be sure to follow directions exactly and be very careful if your piece includes crystals or gemstones as these harsher cleaners can permanently dull or discolor your stones. I prefer to keep these harsher pewter cleaners for pewter dishwear instead of jewelry. Do not use silver or brass polish.
Remember pewter is not meant to look like sterling silver and will never have a mirror like finish, so do not overclean your piece.
Never wash pewter in the dishwasher or use abasive cleaners. Pewter can be stained or corroded by acidic foods such as citrius juices.
With proper care and gentle cleaning, your pewter pieces will last a lifetime.