Bacchanal Black Rose Gothic Bracelet Romantic black roses symbolize love everlasting on this beautiful gothic pewter bracelet with black satin ribbon.
Bacchanal Black Rose Gothic Bracelet by
Alchemy Gothic Jewelry and Decor
A sumptuous bracelet with a romantic motif hiding, or revealing, a secret libertine passion for wine and sensual pleasures; black roses for dark love and grape vines for vinous delights.
This romantic bracelet is fine English pewter mounted with black acrylic roses and set with sparkling Swarovski crystals. The central bracelet is mounted to black satin ribbons with a heart shaped Alchemy Gothic logo slider to adjust to fit any wrist.
Item Number:
AG-A106 |
Approximate Size (Inches):
3.00 wide x 0.63 deep x 1.77 high |
Approximate Shipping Weight:
0.25 lbs.
Goes Great With...
A romantic symbol of love eternal, the black rose studs have surgical steel..
$55.00
---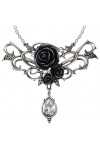 A sumptous necklace with a romantic motif of black roses set on pewter scro..
$80.00
---