Bacchanal Black Rose Gothic Bracelet
Product Code: AG-A106
Average Delivery: 2 - 8 Days within USA*
---

Shipping on orders of $75 or more is FREE within the US.

To see shipping costs outside the US or for orders under $75, add this item to your cart, view the cart and select "See Shipping Costs"
---
Ask a Queston About This Item
Romantic black roses symbolize love everlasting on this beautiful gothic pewter bracelet with black satin ribbon.
A sumptuous bracelet with a romantic motif hiding, or revealing, a secret libertine passion for wine and sensual pleasures; black roses for dark love and grape vines for vinous delights.
This romantic bracelet is fine English pewter mounted with black acrylic roses and set with sparkling Swarovski crystals. The central bracelet is mounted to black satin ribbons with a heart shaped Alchemy Gothic logo slider to adjust to fit any wrist.
Approximate Size (Inches):
3.00 wide x 0.63 deep x 1.77 high |
Approximate Shipping Weight:
0.25 lbs.
Recommended accessories
A romantic symbol of love eternal, the black rose studs have surgical steel..
$55.00
---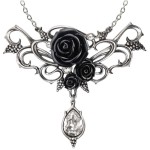 A sumptous necklace with a romantic motif of black roses set on pewter scro..
$80.00
---
Availability:
Inventory is updated regularly and will be shown above with any sizes/colors/items out of stock indicated. Not all manufacturers provide inventory data and even in stock items can be sold out without notice. Items not shown out of stock are normally available. We will notify you of any out of stock items as soon as possible or you can contact us in advance of placing your order to verify availability.
*Average Delivery:
The average delivery time for delivery within the United States via Standard or Free Shipping. Deliveries outside the US will on average take an additional 10-15 days based on destination country and customs both in the US and at the destination. International deliveries may have additional import duties, taxes, or fees imposed before delivery that we cannot charge or estimate - contact your local customs office for information.

Note: This is the average, estimated time for delivery and is subject to availability, seasonal sales volume, and other potential, unforeseen delays. If you must have an item by a specific date, be sure to include that date in your cart comments when checking out.
Delivery Options
US Standard Shipping
Made in the UK, it ships from Alchemy Gothics US Warehouse in Texas. Transit time for instock items are 1-4 business days, however, not all items and sizes are in stock at all times. Items which much be shipped from the UK will take 5-10 business days.
US Express Shipping
Made in the UK, it ships from Alchemy Gothics US Warehouse in Texas. Transit time for instock items are 1-2 business days, however, not all items and sizes are in stock at all times. Items which much be shipped from the UK will take 5-10 business days.
International Delivery
Made in the UK, it ships to our warehouse in Florida (about 4 days). We ship to you via US Priority Mail. Average delivery time is 2-10 business days but will vary with customs in your country. Import duties or fees may be required before delivery is made - contact your local customs office for details.
PO Box/APO/Military Delivery
Made in the UK, it ships from Alchemy Gothics US Warehouse in Texas. Transit time for instock items are 1-4 business days, however, not all items and sizes are in stock at all times. Items which much be shipped from the UK will take 5-10 business days.
Return Information
This item CAN be returned or exchanged. You can exchange it for a different size, color, or item, or return it. We offer cash refund (less shipping charge), as well as store credit for your purchase price plus an additional 10% (store credit can be applied to any future order from any of our <a href="http://www.labeshops.com/labeshops-stores" target="_blank">online stores</a>). See details on <a href="/request-return" target="_blank">returns and exchanges</a>.
Materials
Pewter
Pewter is a malleable metal alloy, traditionally 85–99% tin, with the remainder consisting of copper and other metals. It has a low melting point and is very easy to cast in molds. It has been used since ancient times for everything from jewelry to table wear and was once called the "poor mans silver". Generally pewter has a grayish/silver semi-dull finish, though this varies depending on the metals combined with the tin and can be colored black or other shades or plated with gold or silver. All our pewter pieces are lead and nickel free. Pewter is generally hypo-allergenic and will not tarnish or react in most conditions. Note it can break or crack if flexed multiple times and rings cannot be re-sized, though interior ring springs or other adjusters might be used.
Country of Origin
Origin
Hand Made in the UK
Other Items with Tag: black roses, gothic bracelet, valentines