Amourankh Heart and Ankh Drop Earrings Beautiful drop earrings are Egyptian ankhs made up of a series of hearts symbolizing everlasting love.
Amourankh Heart and Ankh Drop Earrings by Alchemy Gothic Jewelry and Decor
A romantic symbol of love eternal, these pewter earrings combine the all-pervasive heart with the ancient Egyptian Ankh, symbol of everlasting life.
This pair of delicate, pewter scrollwork ankh-heart earrings have 6mm crystal/enamel details and are suspended from black enamelled heart studs with surgical steel posts.
About 1.85 inches long overall.
Item Number:
AG-E354 |
Approximate Size (Inches):
0.91 wide x 0.12 deep x 1.85 high |
Approximate Shipping Weight:
0.25 lbs.
Recommended accessories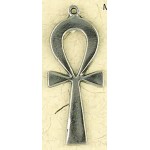 Simply elegant Ankh is about 2 inches high on a 33 inch long black neck ..
$9.95
---