Doom Skull Gothic Faux Stretcher Earring Worn in a standard ear-piercing, this Doom Skull earring looks like a stretched piercing when worn.
Doom Skull Gothic Faux Stretcher Earring by Alchemy Gothic Jewelry and Decor
Giving the firm appearance of a spike-stretched earlobe, the black face of ruin glares out from a red hell-hole atop the black spiked stud.
The black skull is encased in red enamel on this pewter earring with a standard surgical steel post. It gives the illusion of a 7mm stud stretcher earring while actually using a standard pierced hole.
Single earring is about 1/2 inch in diameter and 1.53 inches deep.
Item Number:
AG-E362 |
Approximate Size (Inches):
0.47 wide x 1.53 deep x 0.47 high |
Approximate Shipping Weight:
0.25 lbs.
Recommended accessories
Pewter skull ring by Alchemy Gothic. ..
$25.00
---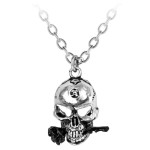 A skull clutches a black rose in its teeth. Rendered in fine pewter with a ..
$20.00
---