My Soul from the Shadow Gothic Earrings for Women Beautiful, elegant raven skull drop Gothic earrings for women celebrate the mysterious Edgar Allan Poe.
My Soul from the Shadow Gothic Earrings for Women by
Alchemy Gothic Jewelry and Decor
The mysterious chance visit of a raven is witness to a forlorn young lover's desperate search for reason and hope, following the tragic loss of his beloved.
Fine English pewter earrings have a raven skull drop with sparkling Tanzanite Swarovski Crystals. Earrings are just under 2 inches long with surgical steel posts.

Item Number:
AG-E380 |
Approximate Size (Inches):
0.67 wide x 0.55 deep x 1.93 high |
Approximate Shipping Weight:
0.50 lbs.
Goes Great With...
The Ravens dark ominous presence, guttural croaks and unearthly sounds are ..
$22.00
---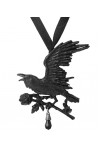 Black: black as a young raven with a black crystal-dripping black rose, sus..
$44.00
---
An unequivocally loyal companion, the majestic raven, wings outstretched, g..
$34.50
---
Fine pewter raven wings surround a sparkling Tanzanite crystal and black cr..
$88.00
---