Chained Love Rose Ear Wrap
The poetic tragedy of a bleeding heart; with black roses and crystals below the enamelled heart in a pewter ear wrap.
Product Code: AG-E344
Average Delivery: 2 - 8 Days within USA*
---

Shipping is FREE on orders of $75 or more within the US.

Shipping costs are based on weight - average is $3.00-$6.50 within the US.

To see shipping costs outside the US or for orders under $75, add this item to your cart, view the cart and select "See Shipping Costs"
---
Ask a Queston About This Item
Chained Love Rose Ear Wrap by Alchemy Gothic Jewelry and Decor
A symbol of faithfullness and constant affection beyond the grave, the rose is an elegant, but distinctly gothic display of sentiment for those with a Mediaeval sense of romance.
Beautifully made and detailed pewter rose is set with a band with sparkling red Swarovski crystal - cannot really call it an ear ring it's more like an ear wrap as it is part ear cuff, part pierced ear ring. Post is a standard surgical steel post with plastic butterfly cap - no special piercing required. Rose is about 3.46 inches long.

Easiest way to put this unique earring on is to put the post thru your ear lobe and slip the chain behind your ear pulling it taught and slipping it over the post behind your ear to hold it snug before putting the back onto the post. Excess chain can be removed with pliers if desired.
Designed to be worn on the left ear as shown.
Item Number:
AG-E344 |
Approximate Size (Inches):
1.02 wide x 0.67 deep x 3.46 high |
Approximate Shipping Weight:
0.50 lbs.
Recommended accessories
The heart is the seedbed of tangled emotions and condemned romance; black r..
$120.00
---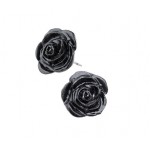 The Black Rose stud earrings by Alchemy Gothic are made from fine English p..
$15.00
---
Availability:
Inventory is updated regularly and will be shown above with any sizes/colors/items out of stock indicated. Not all manufacturers provide inventory data and even in stock items can be sold out without notice. Items not shown out of stock are normally available. We will notify you of any out of stock items as soon as possible or you can contact us in advance of placing your order to verify availability.
*Average Delivery:
The average delivery time for delivery within the United States via Standard or Free Shipping. Deliveries outside the US will on average take an additional 10-15 days based on destination country and customs both in the US and at the destination. International deliveries may have additional import duties, taxes, or fees imposed before delivery that we cannot charge or estimate - contact your local customs office for information.

Note: This is the average, estimated time for delivery and is subject to availability, seasonal sales volume, and other potential, unforeseen delays. If you must have an item by a specific date, be sure to include that date in your cart comments when checking out.
Materials
Pewter
Pewter is a malleable metal alloy, traditionally 85–99% tin, with the remainder consisting of copper and other metals. It has a low melting point and is very easy to cast in molds. It has been used since ancient times for everything from jewelry to table wear and was once called the "poor mans silver". Generally pewter has a grayish/silver semi-dull finish, though this varies depending on the metals combined with the tin and can be colored black or other shades or plated with gold or silver. All our pewter pieces are lead and nickel free. Pewter is generally hypo-allergenic and will not tarnish or react in most conditions. Note it can break or crack if flexed multiple times and rings cannot be re-sized, though interior ring springs or other adjusters might be used.
Surgical Steel
Surgical steel or surgical stainless steel is a specific type of stainless steel, used in medical and jewelry applications, made out of several components: chromium, nickel (or titanium) and molybdenum. It is easy to clean and sterilize, strong, and corrosion-resistant. It is often used for pierced jewelry posts and wires as it does not cause allergic reactions other metals might in some individuals.
Country of Origin
Origin
Made of Fine English Pewter in the United Kingdom
There are no reviews for this product yet. Why not write one?
View More: Alchemy Gothic Jewelry and Decor, ear wrap, pewter, roses, gothic jewelry, gothic earring, valentines