Rabeschadel Bird Skull Gothic Pewter Necklace Modeled after the skull of a raven but made in fine English pewter, this gothic necklace comes on a black satin neck cord.
Rabeschadel Bird Skull Gothic Pewter Necklace by
Alchemy Gothic Jewelry and Decor
Rabeschadel is German for "raven's skull"; the great black birds are famous for their prophetic powers and, as the eyes and ears of Odin can foretell the future. Famous also for their protective powers, for example, in Middle Ages' Christian tradition, even the body of the martyred St Vincent was forever preserved from desecration by a vigilant raven guard.
Fine Pewter skull comes on an adjustable satin ribbon. Skull is 2.44 inches high.
Item Number:
AG-P736 |
Approximate Size (Inches):
1.10 wide x 0.59 deep x 2.44 high |
Approximate Shipping Weight:
1.00 lbs.
Goes Great With...
Dark and sultry feathered companions make sure your admirers do not underes..
$15.00
---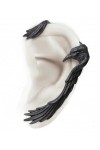 Imparting his uncanny powers of protection, the black raven raffishly embra..
$35.00
---