Greenman Forest God Door Knocker The Greenman greets your guests in this beautifully detailed door knocker. Metal ring hangs from the Forest God's teeth in a unique touch for any entry.
Height: 7 Inches
Cold Cast Resin with Metal Ring
Exceptional Detail with Stone Finish
---
---
Greenman Forest God Door Knocker by
Pacific Giftware Home Decor
It is a shame door knockers are no longer standard for front doors as they add a truly unique and elegant touch to any entrance. Take a step back in time and let this Greenman make your entry unique and bless your entryway.
Cold cast resin in stone finish with a metal ring, this Dragon Door Knocker measures 7 inches high. Easily attaches to any door or garden gate. It is more decorative than functional as there is no striking plate (though you can always add one).

Item Number:
PT-8759 |
Approximate Size (Inches):
4.00 wide x 3.00 deep x 7.00 high |
Approximate Shipping Weight:
1.00 lbs.
Goes Great With...
The laughing Leafman light switch will bring his jovial mischievousness int..
---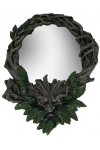 Hand painted cold cast resin mirror is 20 1/2 inches high with hanging hook..
$78.00
---