Black Talon Rabeschadel Bird Skull Gothic Necklace The claw of a black raven grasps a marbleized orb in this bony claw on this stunning gothic necklace.
Black Talon Rabeschadel Bird Skull Gothic Necklace by
Alchemy Gothic Jewelry and Decor
The cunning and the sinister is palpable in this foreboding claw of the corvus corax - black raven - rendered in fine black pewter. The claw dangles beneath a pewter replica of a ravens skull and clutches a sanguinary, marbleized orb to scrye for telling omens.
Finely detailed burnished pewter with blackening and a glass ball. Comes on a black chain about 20.5 inches long. Center piece of the necklace is 2.48 inches long.
Item Number:
AG-P734 |
Approximate Size (Inches):
0.63 wide x 0.67 deep x 2.48 high |
Approximate Shipping Weight:
1.00 lbs.
Goes Great With...
Dark and sultry feathered companions make sure your admirers do not underes..
$15.00
---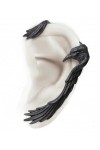 Imparting his uncanny powers of protection, the black raven raffishly embra..
$35.00
---