Ring O Black Roses Gothic Wreath Necklace This gothic pewter necklace of devotion wreath of black roses symbolizes a dark and mysterious love, sometimes tragic, that cannot always be explained.
Ring O Black Roses Gothic Wreath Necklace by
Alchemy Gothic Jewelry and Decor
From the ancient and pagan traditions of The West, this stunning wreath of black roses is a beautiful expression of love for your Gothic lady.

A two-tone pewter pendant of a ring of modeled 3D black roses with pewter foliage and suspended from a rose leaf bale with a clear Swarovski crystal. The pendant comes on a 21" chain plus a 1 ½" extender chain.
Item Number:
AG-P791 |
Approximate Size (Inches):
3.74 wide x 2.56 deep x 4.69 high |
Approximate Shipping Weight:
1.50 lbs.
Goes Great With...
A sumptuous bracelet with a romantic motif hiding, or revealing, a secret l..
$70.00
---
A romantic symbol of love eternal, the black rose studs have surgical steel..
$55.00
---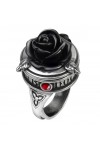 Sub Rosa means Beneath the rose, a revered symbol of secrecy for many hundr..
$82.00
---