Steel Boned Corsets
Showing 1 to 20 of 20 (1 Pages)
---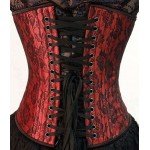 Steel boned corsets can be used for extreme wear and body modification - as well as just looking great! They are our sturdiest corset styles with multiple layers of fabric to add more stability and protect against tearing or overstressing the fabric or grommets.
Outer fabrics are stunning in satin, silk, lace, and even leather for just the right look for your wedding, prom, or special event. We also offer a selection of simple cotton corsets perfect for wearing under your clothes or dressing up any way you want with your own embellishments. They are also recommended for long term body modification or waist training as their sturdy, multi-layer construction can take the strain of tight lacing without tearing.
---
New items coming soon! Follow us on Social Media or Subscribe to Our Newsletter Below for Updates!