Zombie Door Knocker The full color Zombie on this door knocker holds a metal ring between his teeth making this a unique accessory for your front door.
Height: 7 Inches
Cold Cast Resin with Metal Ring
Exceptional Detail with Color Finish
---
---
Zombie Door Knocker by
Pacific Giftware Home Decor
Cold cast resin, finely detailed Zombie head holds a metal ring on this amazing door knocker. About 7 inches high over all, it is cold cast resin and easily installs on any entryway or gate.

Item Number:
PT-9955 |
Approximate Size (Inches):
4.00 wide x 2.00 deep x 7.00 high |
Approximate Shipping Weight:
2.00 lbs.
Goes Great With...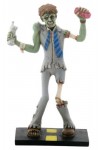 Even as a zombie, this business man is keeping in touch with a cell phone i..
$30.00
---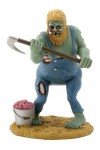 This redneck zombie is keeping one eye on the bucket of brains, the other o..
$35.00
---
Screaming zombie head is cold cast, hand painted resin with very fine detai..
$52.00
---