Mortaurium Pewter Skull Stud Earring Pair These detailed skulls are mounted on surgical steel posts as great earrings by Alchemy Gothic.
Mortaurium Pewter Skull Stud Earring Pair by
Alchemy Gothic Jewelry and Decor
A set of grim and sober skulls, staring deeply into the oblivion of a long-past mortal existence.
Pair of stud earrings with a surgical steel post.
Item Number:
AG-E342 |
Approximate Size (Inches):
0.35 wide x 0.35 deep x 0.45 high |
Approximate Shipping Weight:
0.25 lbs.
Goes Great With...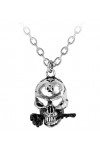 A skull clutches a black rose in its teeth. Rendered in fine pewter with a ..
$20.00
---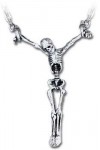 A skeleton hangs from shackled split nickel-free silver chains. Re..
$25.00
---
These delicate little skull stick pins are perfect for a hat, jacket lapel,..
$19.00
---
Faux leather black flats have a white, skeleton print. All man-made mate..
$35.00
---