Gothic Boots for Men - Combat, Platforms, and Creepers
---
Posted on: 2023-06-29

|
Views: 155
|
Category:
---
Gothic boots have long been associated with an edgy, rebellious aesthetic, allowing individuals to express their unique sense of style and embrace their dark side. In this article, we dive into the realm of gothic boots for men, focusing on three iconic styles: combat boots, platform boots, and creepers. Join us as we unravel the allure, historical influences, and fashion-forward possibilities these boots offer to those who dare to stand out from the crowd.

Combat Boots:
Combat boots have a rich history, originally designed for military use. These rugged boots feature a lace-up front, sturdy construction, and a high ankle for maximum support and durability. In the realm of gothic fashion, combat boots have become a staple, exuding a rebellious and powerful aura. Their versatility allows them to be paired with various outfits, from punk-inspired ensembles to more casual streetwear looks. Whether adorned with buckles, chains, or spikes, combat boots add a touch of attitude and an unmistakable gothic edge to any outfit.
Platform Boots:
Platform boots make a bold statement with their elevated soles, adding height and drama to any look. These boots have been embraced by gothic subcultures for decades, showcasing a fusion of punk, rock, and alternative influences. The platform design can vary from moderate to extreme heights, allowing individuals to tailor their style to their comfort level. Platform boots are often adorned with intricate details, such as straps, buckles, or metal accents, amplifying their gothic appeal. They pair exceptionally well with dark, avant-garde fashion, giving a commanding presence and a unique touch to your ensemble.
Creepers:
Creepers are known for their distinct thick soles and sleek, low-cut design. Originally popularized in the 1950s by Teddy Boys and later adopted by gothic and punk subcultures, these shoes exude a sense of rebellion and underground cool. Creepers often feature suede or leather uppers, chunky soles, and distinctive stitching. They offer a more refined and versatile option within the realm of gothic footwear, easily pairing with both casual and formal outfits. Whether you prefer classic black or opt for bold colors and patterns, creepers are a go-to choice for those seeking a touch of gothic sophistication.
Styling Tips and Outfit Inspiration:
To fully embrace the gothic aesthetic, consider incorporating these boots into your wardrobe with confidence. Pair combat boots with skinny jeans, band t-shirts, and a leather jacket for an effortlessly cool look. Style platform boots with wide-leg pants, long coats, and statement accessories for a dramatic and commanding presence. Creepers can be worn with tailored trousers, button-up shirts, and blazers for a sophisticated and edgy twist. Experiment with different textures, layers, and accessories to create a personalized gothic style that reflects your individuality.
Gothic boots for men, including combat boots, platform boots, and creepers, offer an array of options for those who want to embrace their love of gothic styles from everyday work to special concerts and events.
Related articles: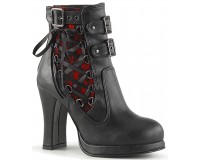 How to Style Platform Boots for Women
Platform boots for women are not only a trendy fashion choice but also a means to express your unique style. With their various styles, materials, and designs, these versatile footwear options offer endless possibilities for creating captivating outfits. Here's a compre...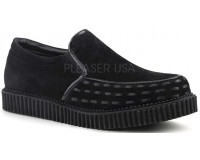 Unisex Creepers - Embracing Alternative Style
Creepers, with their distinctive thick soles and sleek design, have become an iconic choice within the realm of gothic fashion. Originally popularized in the 1950s by the rebellious Teddy Boys, these shoes later found a new home within gothic and punk subcultures. Today...